General Services
Roll Off Container
Roll Off Dumpster
Excavation
Demolition
Inert Landfill
Earthwork, Backfilling, and Grading
Carpentry
Roll-Off Service
Riprap/Shoreline Stabilization
Drainage Tile Installation
Heavy Equipment Transportation
Concrete Work
Products Offered
Salvaged Waste Disposal

- Roll Off Dumpsters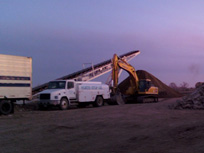 Thanks to our sophisticated
Reycling Program
we have a large selection of salvaged goods available to purchase. This way, you can secure a highly functional appliance or home furnishing for a fraction of the price. If you find a product you need, please
Contact Us
and we'll reserve your order.
Salvaged Products
The following salvage products are taken out of housing units that we demolish and sold to the general public:
Doors (Screen/Storm)
Windows
Lighting fixtures
Upper and Lower Cabinets
Dishwashers
Furnaces
Water Heaters
Electrical Boxes
Toilets

Ceiling Fans
Bathroom Vanities
Sinks
Patio Blocks
2x4's, 2x10's
Plywood
Chain Link Fence, Posts, and Gates
Garages
**We have a great deal of demand for certain salvage products and a lesser demand for others. Some of the items listed here may not always be available. Please contact our office if you have any questions on the products we offer.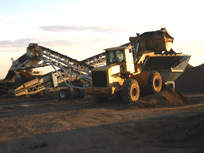 Material
Black dirt
Recycled/Crushed Concrete
Recycled/Milled Asphalt
Clay
Gravel
Rip Rap
Bedding Stone
Sand
Berger Enterprises owns/leases multiple pits throughout Grand Forks, Walsh, and Benson Counties (North Dakota). Contact our office for material prices.
Looking for professional waste disposal? Look no further.
Call Berger Enterprises at 701-594-3385 or fax your requests to 701-594-3452.
Waste Disposal for North Dakota, Minnesota


Berger Enterprises works throughout Central and Eastern North Dakota, Western Minnesota. Including, but never limited to, Emerado, Grand Forks, Fargo, Devils Lake, & Walhalla, North Dakota. Crookston and East Grand Forks, Minnesota